Quality Helicopter Training
Our specialty is helicopter flight training. We provide quality helicopter flight training in central Kentucky. ETL Aviation is headquartered in Lexington, Kentucky and conduct our helicopter flight training from the Bluegrass Airport. We pride ourselves in safe, reliable helicopter flight training. Our flight instructors are knowledgeable and friendly, making the flight training experience fun and rewarding.
Below are some of the primary helicopter flight training courses offered by ETL Aviation.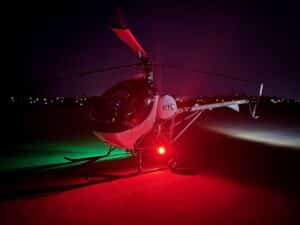 Our Primary Helicopter Trainer
We love the Schweizer 300CB/CBi helicopters for flight training.  The helicopters are easy-to-fly, reducing the amount of training time needed.  The Schweizer is a safe and reliable helicopter for flight training.  This fact is one of the reasons the helicopter design was used for training U.S. Army pilots for many years, until the switched to more expensive turbine helicopters. 
Don't Take Our Word For It. Here Is What Our Students Have to Say About ETL Aviation​
I have taken several lessons with ELT. The aircraft is top notch and meticulously maintained. Brad Fenster, my instructor, was knowledgeable and patient and did an excellent job pacing the lessons. Highly recommend.
ETL Aviation was extremely great to deal with. As an instructor, Brad was extremely knowledgeable and calm. He demonstrated everything properly and in a very understandable way.
I am a private pilot (airplane,) who has done two helicopter lessons with Brad so far. I am amazed how much he has been able to teach me in such a short time. FUN doesn't even begin to describe the experience!
More Reviews about ETL Aviation